Regular price
$109.99 USD
Regular price
Sale price
$109.99 USD
Unit price
per
Sale
Sold out
Why Choose A Sauna?

1. Saunas improve overall health, wellness and performance.
2. Saunas aid in recovery after intense physical activity.
3. Saunas relax muscles and soothe aches/pains in both muscles and joints.
4. Saunas flush toxins via sweating process.
5. Saunas improve brain health.
6. The heat in the sauna helps us to relax and regulates the level of cortisol in our blood.
7. Saunas can induce a deeper sleep.
8. Saunas can help fight illness.
9. Sauna cleanses the skin.
10. Saunas burn calories.
11. Saunas bring out recreational and social benefits.
About Installation

The sauna is assembled from many wooden panels. Easy to install, only need 2 people to complete the installation. You can choose to install it yourself according to your needs (we will provide a full set of installation instructions and videos) or choose the installation service we provide (installation by a professional installation company, but does not include electricity).

Installation finished product display:

https://www.smartmakshop.com/pages/installation-finished-product-display
Shipping Time

Since this product is an oversized product, we need a production time of 30-35 days and a delivery time of 30-35 days.

The total delivery time is 60-70 days.

If you have special time requirements, please contact us. We'll arrange the shipping time that works best for you.
Contact Us

Don't hesitate to contact us if you have any questions about the product or your order. We're always happy to help!

You can send your inqury to our customer service 👇

Email Us: smartmakshop@gmail.com

Phone: +1 213 7265172

 
Brand: SMARTMAK
Specifications:
Temperature regulation: 1-9files
Time control: 0-99minutes
Power: 900W
Rated voltage: 110-120V AC 60Hz
Capacity of Water: 2L
Package Contents: Steamer*1 Remote control*1 Catheter*1 Herbal box*1 Product manual*1
Tips: Catheter, Remote and Herbal box are packaged in the steamer pot.
Describe:
Safety design 1: The steamer adopts water and electricity separation design and three-hole socket design to keep your safety.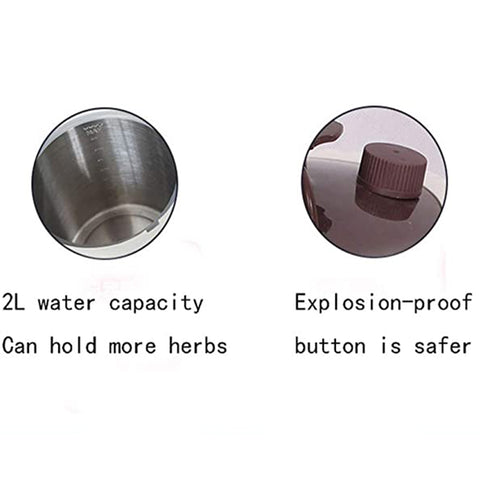 Safety design 2: The inner tank of the steamer is made of 304 stainless steel seamlessly welded and will not leak water.
Safety design 3: The lid of the steamer adopts a double-layer explosion-proof design to prevent the lid from cracking.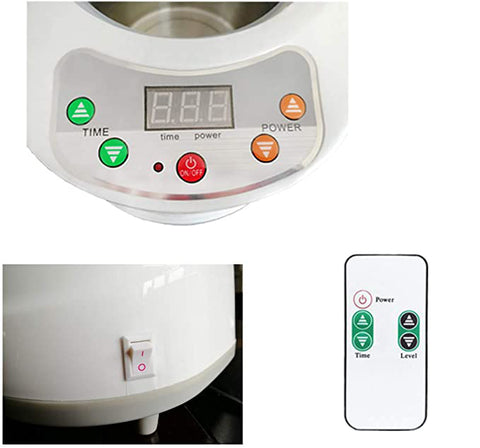 Easy to control: you can use the button on the body to turn it on/off, or you can choose the remote control to turn it on/off remotely.
Notice: Do not put essential oil in the steamer to prevent the lid from breaking up.
How to use our sauna steam generator?
Pour water into the steamer until the maximum water level mark is reached, not to exceed it.
Connect the steamer to the sauna tent through a hose.
Insert the plug into the socket, turn on the switch, set the time, first preheat with 9 levels, after the steamer starts to produce steam, adjust to the suitable temperature level for you.
After the sauna tent is full of steam, you can enter the sauna tent and enjoy the SPA.
After use, be sure to wipe the inside of the cover with a dry cloth, and don't let it get wet.
Questions & answers
Q1:
After choosing the goods, how should I pay?
A1: Once your order is submitted, you will be redirected to PayPal's website, where you can pay.With PayPal, you can use your credit card, debit card, or bank account balance to pay.
Q2:
How long does it take to purchase a product?
A2:
Total delivery time = processing time + shipping time 
Processing time: usually 1-3 working days.
Delivery time: (Due to COVID-19, delivery time may be delayed)
1. Standard shipping time: 7-14 business days. Shipping Cost US $10.00.(Free shipping over $49)
2. Fast shipping time: 3-7 business days. Shipping Cost US $20.00.
For more details, please click on Shipping Policy
Q3:
How long is the warranty period of the product?
A3: Our lifetime warranty only applies to consumer/home use. For our commercial customers, the warranty period is only two years.For more details, please click on Warranty Policy
Q4:
What happens if I use distilled water?
A4: Regular water has minerals in it that collects in the tank. Distilled water prevents this.
Q5:
Can the unit be placed inside the bathroom?
A5: In order to ensure the service life of the product, you may use it outside the bathroom. Because the size of the home bathroom is relatively large, it needs extra long-time warm-up during use. If the steam is not enough, you can try it according to the method provided in the description of the product details page.
Q6:
Will i still get steam without using the tent to connect a hose. I have only a stool and gown covering.
A6: Yes, you will still get Steam, but it gets really hot so the steam kinda starts fast then towards the end the little water bits shot out hot.
Q7:
Is there any extension tube available? I need longer Longer length.
A7: Hardware store. Take your existing hose and have them recommend a replacement. You can buy the tubing by the foot.
Q8:
Do not put essential oil in the steamer. so where do I put the oil?
A8:
The steamer is equipped with a medicine box, you can put the essential oil in the medicine box.
Share
View full details