Regular price
$4,199.00 USD
Regular price
Sale price
$4,199.00 USD
Unit price
per
Sale
Sold out
This product is in stock and can be delivered in 30-40 days. 
If you have other questions about our products, please contact us, we will answer you at any time.
Product Data 
Model No.  : RT6002        
Rated Voltage : 220V

Consummed Power : 150W   
N.W. /G.W. : 99kg/ 128kg     
Upright Dimension: 158*72*115CM

Reclined Deimension: 173*72*83CM         
Product Descriptions 

1. Best quality Massage Chair with Nine Auto Massage modes
2. Adjustable Massage Width from 6-20cm
3. Super long L-shaped (125cm) massage orbit on backrest performs massage from head to thigh.
4.  Unique Armest massage design: 288 salient points doing Acupuncture point pressure.
5. Heating therapy for waist
6. USB socket for Mobile Phone charging.
7. Rolling massage for feet.
8. Bluetooth connection with mobile phone. Then user can control the chair or play music via mobile phone.
9. One carton package , no need to assemble when receive the chair.
Product Size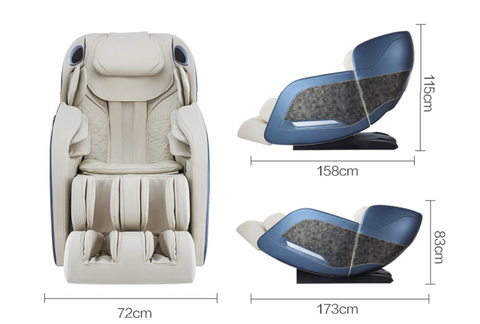 The ergonomic design mechanism glide technology neatly fitted with the S shape body figure, the 1250MM super long L-shape massage guide track delivering three dimensional massage along the entire length of the spine,and all the way down to hips and the thighs, covers up to 60% more of the back than conventional chairs. It helps to promote flexibility,prevent injuries,ease muscle strains and aiding healing.
The width of massage heads can adjust betweem 6-20CM according to various user's body figures
Equipped with optical coupler scan device which can locate the shoulder and neck, Super human hands 4 massage-head mechanism performs Kneading,Knocking,Sync,tapping,shiatsu
and rubbing massage techniques, providing pinpoint supreme massage experience for users with all kinds of body figures.
Bumpy pad&air pressure massage for hands&arms
Invisible design: bumpy massage pad
Bumpy pad covers the full hands&arms,a perfect compliment
to air pressure massage
There are 6 main meridians(collateral channels) and hundreds of acupoints on our hands,press on the acupoints has the effect of improving functioning in the relative parts.
A 404MM long,106MM wide,with 288 bumpy dots pad built along with the airbags for arms&hands, while the airbags pressing massage is running, the protruding dots will stimulate the acupoint on hands and arms to help boost the blood circulation.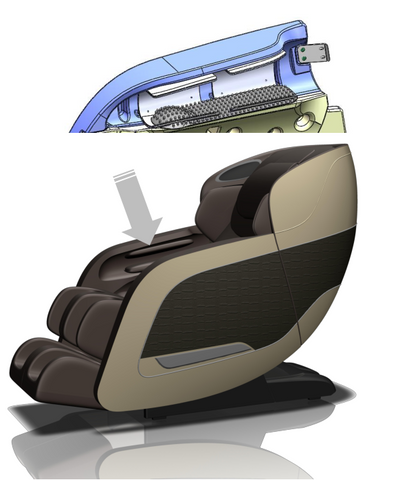 20 enveloping airbags bring tight&comforting

air pressure massage
2 for shoudlers ,4 for arms&hands,
6 for calves,8 for feet
Full coverage air pressure massage for shoulders,arms,hands,calves and feet,by using

pushing,pulling,squeezing and pressing massage techniques of rollers, airbags and
heat therapy,air pressure massage can help to increase blood flow.
Zero gravity position massage
it is extremely helpful for deep sleep,brings the ultimate relaxation the horizontal position that the height of the legs slightly higher than the upper body,at 126±7 degrees between the upper body and legs,the weight of body can evenly distributed throughout, reducing the pressure of the spine and joints both physically and mentally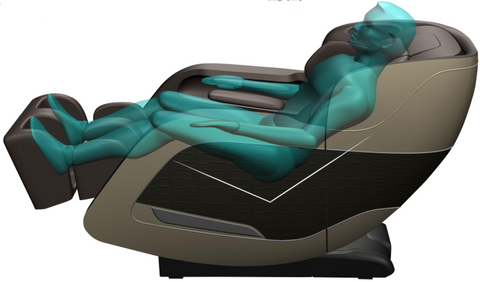 Independent controlled soothing heating therapy for back
Perceived temperature can reaches to high of 50 ℃
Treat your body with soothing warm care
Superior performance carbon fiber heating features energy efficient, safe and even heat distribution,proving quite and reliable warm therapy for your back
9 pre-set auto wellness programs
6 manual programs
User-friendly controller
Easy updating of daily life
Choose from the choreographed 9 pre-set auto wellness programs: Extension,Refresh,Recovery,Upper/Lower Auto,Boss Nursing,Queen Slimming and
Soul Spa Or use the 6 manual programs to cusom your own massage experience:
Kneading,Knocking,Sync,Tapping,Shiatsu, and Rhythm


Share
View full details